UPDATE 3.8.2010: Thumbplay contacted me less than 24 hrs after this post, and got me up and running on my blackbery 9760!
Thumbplay launched its music service this week, joining Mog, Rhapsody, Lala, Spotify, Last FM, and Myspace in the already crowded battle between streaming music services. The monthly subscription is $9.99. This is twice the rate of new entrant "MOG" (and $9.99 more than the free myspace!), but you get mobile access for the extra charge. Factoring in mobile makes Thumplay's offer cheaper than Rhapaody's similar desktop and mobile plan.
The selling point of Thumbplay Music is the ability to move your music to the cloud in one click by importing your playlists directly from itunes. It took just a few minutes to import 20 playlists, with 500 songs. The "import" was fast and accurate because it was only checking the data with the "cloud", not actually moving files.
You can "import" songs to the cloud regardless of where they came from.
The second differentiator is Thumplay's mobile access. With a full subscription, you can access your music and playlists from a "smartphone".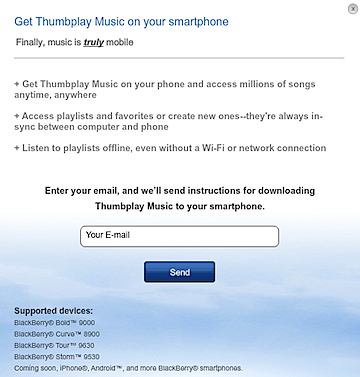 Unfortunately the device list is small:
BlackBerry
Bold 9000
Curve 8900
Storm 9530
Tour 9630

Continue reading THUMBPLAY MUSIC SERIVCE: MOVE YOUR PLAYLISTS TO THE CLOUD