Alot of action with QR codes this week. I still see a big disconnect between proper use and a short term tech buzz. For beginners, I think this is the definitive post from my experience, on how to use them effectively.
5 tipes for using qr codes effectively
But we seem to be far from the tipping point, or the jump the shark moment, so this was another huge week in the qr code debate.
It started with CNN using qr codes in the first Republican debate. It was curious that they gave so much screen time, and I really cant see the practical use of someone scanning a qr code from the tv during the debate as really adding value. How about just telling viewers to go to cnn.com???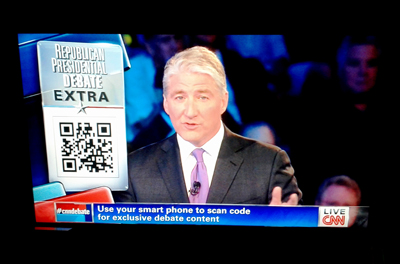 Google "cnn qr code" for more info on this, and strangely enough, you might see first find that CNN's own site has an article from March that seems to question weather or QR codes are the real deal!
Marketers embracing QR codes, for better or worse
Jon Stewart certainly got the irony of having someone pull out a phone, launch an app, and then scan a code from a tv screen – he spoofed the CNN QR code stunt the next day on his show.
Daily Show Counters CNN on screen qr code

And then there was the webby awards and Webby winner Jessica Stuart wearing a dress with qr codes that took you to her award wining video. This one I like! Your at the webby's you have your phone, maybe you missed her video…..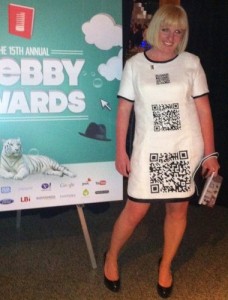 "It's my nerd version of the Lady Gaga meat dress"
A banner week in national qr code action, yet for many the feeling of all this being nothing more than a short term novelty trend continues. Nice article from the people over at lucid agency
QR Codes May Fade Into Retirement
I echo their sentiment….. But to share both sides, along the way this week I found a few new sites that take the postive side of qr codes, and offer some nice coverage if you want to stay up to date and decide for yourself!