Myspace music is a fun, easy and free way to create playlists. Yes, there are the familiar flaws in the overall myspace interface, but the music features are getting better, and the fact that myspace has most of the content from major, indie and unsigned Artists, makes it worth exploring as a serious playlist destination. Listening does not require log in (yet) but you must be a member to make a playlist. So dig out that old account and log back in to get started.
ARTIST PROFILES – SURF AND ADD!
The best way to start playlisting is surfing Myspace the way you always have: Profiles. All profiles can now tap into the myspace music player and the player has a "+"button next to most of the songs throughout the site.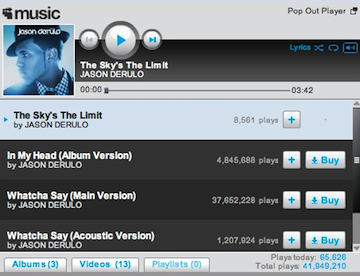 The + button next to each song spawns the "add to playlist menu"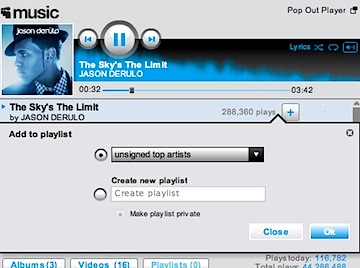 The interface is smooth – you can add to an existing playlist or create a playlist on the fly without leaving the player. This is a nice touch and makes playlisting easy on the fly. A feature many of the paid sites don't have. I keep several playlist as "buckets" to add stuff as I surf the site.
FEB best of myspace
FEB unsigned artists on Myspace
YOUR MUSIC PAGE
To manage your playlists, Myspace Music built out your personal music page as part of your profile. Your music page is the main place to manage your plalylists and set them to public or private.
MYSPACE MUSIC
Myspace Music has its own homepage for editarial content, album premiers, featured playlists, and more. It's curated nicely, and updates daily. Its a good place to start if your looking for new music to add to your playlist.
Myspace music "bolted" on a standard music service hierarchy on top of the familiar profile structure. You can find Artist's, Albums and Songs via the myspace music home page.

BROWSING FROM THE ARTIST PROFILE PLAYER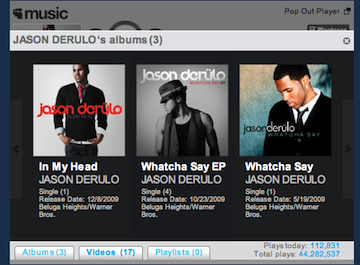 From the Artist player you can also find more that just the featured tracks. Albums, Videos and Playlists are available from the tabs on the bottom of player. The image above shows browsing Jason Derulo's available albums within his player.
Once you select content from this area, youll leave the artits profile, and again, enter the Myspace Music hierarchy. It's essentially the same player.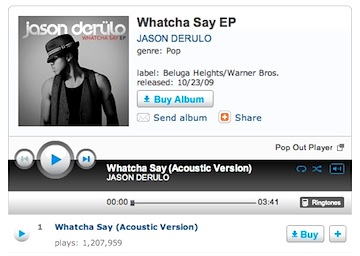 This can sometimes be confusing as you can access the same content in two different players, depending on where you start. Sometimes your not sure if you are on the Artist profile, or the Artist's page within Myspace Music.
The final verdict is Myspace Music has some nice features and works well once you learn the system. When you swap some of its flaws with the fact its free, its hard to find much to complain about.
Post your playlists here!