Monthly Archive for March, 2009
The Facebook party is winding down, and LIGHTS blew away an always tough industry crowd. It was hard to resist her energy, even if you missed the announcement that LIGHTS launched what could be the first ever artist site using facebook connect.
It was more than an industry showcase! Convincing Artist's to take a chance on new technology can be tough (thats a big part of my job!). They need to have an understanding of where things are going to truly apply new ideas to their art. Its often a riskier proposition than people realize. But when an Artist has a vision for new music AND new media – you can create the perfect storm of innovation the music business needs.
The "Connect" technology is amazing – and it has that feel good moment when you log into LIGHT'S site with your facebook account. But it never would have happened if the Artist didn't have a strong enough vision for herself to try something new.
LIGHTS is the future, as much as facebook connect is the future!
Thanks to LIGHTS, Ethan Kaplan, and Raquel and Dave at Facebook, for making the show, the art, and the tech happen! When they work together, things evolve.
While SXSW is mostly know for music, I've found the interactive portion is much more exciting. It is the ultimate in music and social networking, as everyone here is twittering, blogging. It's the only time all year, I fell like I can't keep up with it all! There are so many people here using leading edge social technologies that it gives you a taste of what it will be like if they catch on. SXSW interactive was the first place i discovered Twitter several years ago – and it only got me excited because everyone here used it – so you got a taste of what it COULD be. So more than just the panels, it's a chance to be a part of a hyper connected future, while enjoying some good music.
This year, "LIGHTS", one of my favorite artists on Warner Bros, is playing at the invite only Facebook party. It will be a great party, and a great show, so if your down at sxsw, hit me via twitter, and I'll see what I can do to get you in.
Not much coverage in the US music press about the nokia muisc event today.
It wasn't groundbreaking but it was siginigcant:
1.) Three new music phones – any company the size of Nokia producing cool phones with an attempt to monetize music is a big deal. The phones are cool!. Music service may need some work, but its a great start.
2.) Nokia is Planning a Virtual Music Store in India – india is a very tough market to "Sell" music in, so again when someone like Nokia is opening any type of Music store – it's is a good sign. Nokia launched a similar service in UK and got a good response.
And where will "Comes With Music" launch next? If your an iphone user, stay tuned for the 5800 review, and see what your missing!
Nokia is a close second to apple when it comes to gadget lust. They seem to pump phones out so fast and there is always a new model that seems to challenge convention. Bad ass, like a mac, yet uniquely "Nokia".
And performance wise they score – GREAT battery life, and usually better than aveage reception.
From a US perspective, they don't get enough respect. The next series of posts will examine Nokia's newest designs, music capabilities, and potential role in the future of the business of music.
It was the 6800 in 2003 that first hipped me to the fact nokia was trying to innovate outside the box!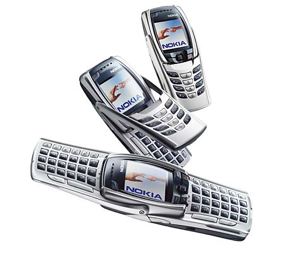 Such a simple design – a small functional Nokia "candy" bar style, but access to full keyboard when needed. Great engineering to solution!
Nokia made video a focal point of their designs very early. This thing flipped my mind when it came out 3 years ago. Definitely pushing limits of a phone/camera combo.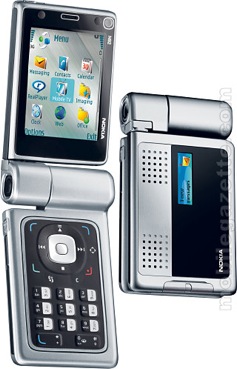 And this n90 never got the repsect in the US for beautiful design of a music phone.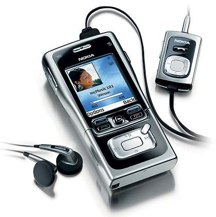 Next up my look at the 5800 – the first nokia touch screen phone / music device: