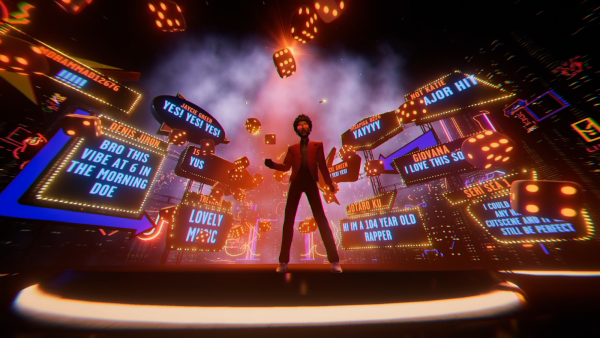 This project was the Summer of Covid. Working away in my home office, no physical contact with a massive team spanning across Wave, TikTok and the Artists. Pulling to together all the ingredients for seomtheinf special, basically wiling this to life. The date was moved three times, the art evolved in new ways, The Weeknd pushed out creative an interactivity to new heights, and we we faced the looming threat of a U.S. ban of TikTok just das before we were finishing the show!
But it all went down and withou ny technical issues with Wave's platform. The Weeknd's live, interactive virtual concert that premiered Aug. 7, and included several rebroadcasts on local TikTok handles pulled in more than 2 million total unique viewers. The event recorded 275,000 concurrent viewers at its peak, setting a new TikTok record!
Debuting new music, along with a surprise avata guest appearance from Doja Cat, "The Weeknd Experience" concert raised $350,000 for the Equal Justice Initiative through the sale of a new Weeknd x TikTok capsule collection of merchandise, which was available for a limited time.
Global music rights were one of the Many curveballs we dealt with leading up to the show. At the eleventh hour, TikTolK couldn't clear the music around the world, so Wave created an entirely second streaming window, handled all marketing and promotion of final worldwide premier of the Director's cut, after the 6 tiktok rebroadcasts, and We added another million live unique viewers on YT/FB/Twitter!